Follow Me 4WD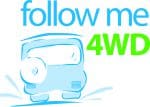 Club Sponsor:
BRONZE SPONSOR
Under 16.5 Team Sponsor
About Us
We offer 4WD, low risk/defensive driving, ATV/SSV, on road and off road towing and tagalong tours. In 2020 we have added a recreational sand driving course and a specific course for the P plate driver.
Training and Assessment is done on behalf of Getabout Training Services, RTO 90547, which will be responsible for the quality of training and assessment provided and for the issuing of statements of attainment for the units of competency on its scope.
Follow Me 4WD is an associate training provider with Getabout Training Services.
Follow Me 4WD has 3 training facilities in SA all of which offer distinctly different terrains depending on your requirements.
We travel extensively throughout Australia for training. We are based in SA but we can travel anywhere to facilitate your training.
Follow Me 4WD are available to train 7 days/week and can train onsite if required.
We can devise a specialised course specific to your needs.
Join us for your training or hop on board for one of our tagalong tours!
Send Message to listing owner